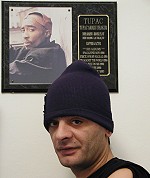 Thursday, June/16/2011, 08:00 PM
Venue: ATLANTA SYMPHONY HALL


Symphony Hall at the Woodruff Arts Center
June 16, 2011 at 8:00pm
Reserved Seating

The 40th Birthday Concert Celebration Presented/Hosted by Afeni Shaur & Mike Epps
ERYKAH BADU HEADLINES!

On June 16, 2011 Tupac Amaru Shakur will turn 40 years old. Celebrate the LIFE w/ Pac's mother Miss Afeni Shakur, Hollywood Comedian/Actor Mike Epps as they present The Tupac 40th Birthday Concert Celebration with ERYKAH BADU! For the 3rd consecutive year, Epps hilariously hosts the birthday concert of this fallen Musical Legend, Warrior, Political Force, Hero, Son and Global Icon. This Year ERYKAH BADU headlines this triumphant benefit concert with a raw & rare performance unlike anything you have EVER seen from Badu! With additional performances by jazz great Roy Ayers, hip-hop legends Bun B, 8BallMJG, Too Short & others who appropriately fit the bill, this event will tip its hat to our hero and salute our soldier…Tupac Amaru Shakur on his 40th Birthday! Atlanta's own, DJ Drama serves as DJ for this event thus ensuring that it will indeed be a CELEBRATION!

This is a concert to benefit the Tupac Amaru Shakur Foundation (a 501c3 non-profit organization) located at 5616 Memorial Drive Stone Mountain, Georgia 30083 All proceeds from this event go to the betterment our community!

Ticket Prices: $45-$150; All tickets are subject to 8% sales tax and service charges. Orders are final sales with no refunds.


Prepaid parking (including valet parking), plus limousine service is available for the Woodruff Arts Center Parking Garage and can be added on to Internet orders. Please take note of both the date and time. Parking passes are only good for entry on or after the stated time.

Link : http://www.woodruffcentertickets.org/village2/ticket/reserve.aspx?perf=41605
By / Da : Mauri2pac
Inserted on / Inserito il : 13/06/2011 2.15.51